Drainage Bulb Holder Kit NEW!! Made in USA
Click here to Order!
For Medical Facilities, MD Offices and/or for Distributor pricing, call 800-328-1095 or email sales@birdcronin.com.
The Drainage Bulb Holder Kit extends the continuum of drain care. The Drain Bulb Holder was designed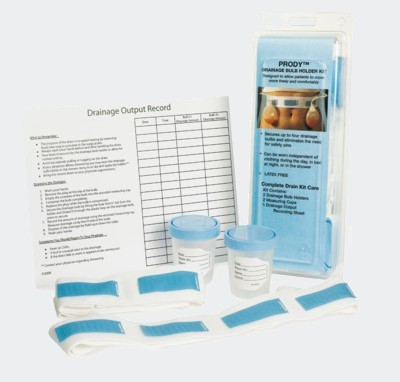 to allow patients to move more comfortably while promoting maximum drain function. The kit transitions from the Hospital or Surgery Center to the home setting promoting clinician and patient compliance. Use of the kit prevents complications and improves outcomes.
BENEFITS AND CLINICAL ADVANTAGES
Kit contains all required components for drain care in convenient clamshell packaging which can be sent home with the patient, saving clinician time at discharge. It contains two measuring cups, drainage record sheet and two drain belts – one for showering if allowed by the physician; or in case one gets soiled.
Designed to be used immediately post surgery. Placement of Drain Bulb Holder prevents accidental dislodgement of drains during transfers from the surgical table, gurneys, or beds.
Secures up to four drain bulbs eliminating the need for safety pins. Prevents pin sticks to staff, patients, or the drain. Prevents 'pulling' or accidental dislodgement of drainage tube. Prevents complications from maneuvering drains in the shower by providing two Drain Bulb Holders, one for dry use and one for showering.
Promotes normal daily activity. It can be worn independently of clothing during the day, in bed at night, or in the shower. Allows for visibility to determine need to empty drain bulbs. Hook and loop fasteners facilitate easy removal for emptying drain bulbs.
Provides comfort and secures drains during Physical Therapy.
Includes patient education and step-by-step instructions for emptying drain bulbs and recording data on the sheet provided. Discharge planning goal met with documentation that kit is sent home with patient.
Additional Helpful Links
Breast Cancer Information
facebook.com/stupiddumbbreastcancer
For More Information about managing your surgical drains: