A better way to secure Jackson-Pratt drains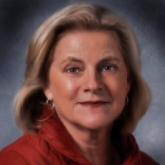 Yearly, millions of women and men in the United States return home from the hospital, with one or more drains inserted in the surgical site. The drains are placed during certain surgeries to carry fluids away from the surgical site, a process that helps with healing. A drain may need to stay in place for several days to several weeks. Unfortunately, traditional ways to secure these drains, such as use of safety pins, have significant drawbacks, such as tube punctures, which can frustrate patients.
After years of working with patients, and witnessing their frustration, discomfort, and anxieties with post-surgical drains, as well as the clinical complications that occurred related to not having a universal way to secure drainage bulbs, I decided it was time to find a safer, easier to use, alternative. Despite an extensive search, I could not find one, so I developed a belt-like surgical drainage bulb holder. Patients can wear the holder under clothing, while sleeping, and in the shower.
The Surgical Drainage Bulb Holder (SDBH), patented in 2003, meets the clinical criteria for maximizing drain function and preventing complications, and is used in 155 nationally recognized hospitals.
Filling a need
Traditionally, most drainage bulbs have been secured with safety pins, to hospital gowns and clothing when home. Some drains come with a plastic clip, which is ineffective as it easily slips off clothing as the bulb becomes weighted with drainage, and is not secure. There are camisoles for mastectomy patients, which support a prosthesis and also have pockets for drain bulbs. Camisoles are effective as a prosthetic garment after the incisions are healed, but not effective for securing drain bulbs immediately post-op due to incisional discomfort. Camisole drain pockets have a lot of movement, and when the bulbs are weighted with drainage, can cause discomfort at the drain insertion site, especially in bed at night. Safety pins, clips, and camisoles do not allow a patient with drains to shower. Patients often resort to makeshift methods in order to shower with drains.
Using safety pins to secure drains can result in serious problems. Pin sticks are possible, painful, and can occur in staff and patients, or the drain itself. Any skin puncture is a potential site of infection, and in the hospital can be considered a sharps exposure requiring testing to identify blood borne diseases; testing is costly for hospitals and patients. A pin stick in the drain tube or bulb causes loss of suction, rendering the drain ineffective.
As a home health nurse, I've spent many hours teaching patients and their families drain management. In addition to emptying and recording drainage, and re-activating the suction, they are instructed how and where to secure the bulbs to prevent pulling, leaking, and possibly dislodging the drain. Patients are taught that drainage amounts are used by the surgeon, to determine when to discontinue the drains.
There are obstacles for patients coming home with drains, which can interfere with their ability to perform drain care. The normal anxiety of coming home after surgery can be increased by the additional burden of managing drains. The patient, or a family member, needs to perform drain care that has been performed by professionals in the hospital. Patients are usually in pain, tired, and possibly dealing with a cancer diagnosis. They wonder how to perform the routine activities of using the bathroom, sleeping, or taking a shower with drains.
Initially, when home, patients often don't recall where to secure the bulbs. They can experience pulling that causes pain at the insertion site, or it can result in dislodgement. Drainage can leak, accidents can occur if a patient rolls onto a drainage bulb in bed causing leaks, and soiling bed linens or the mattress. Some patients reported fear of leakage accidents that kept them from sleeping in their beds.They chose to sleep in a recliner chair the entire time they had drains.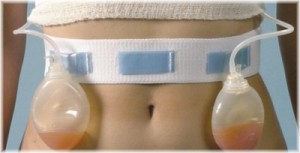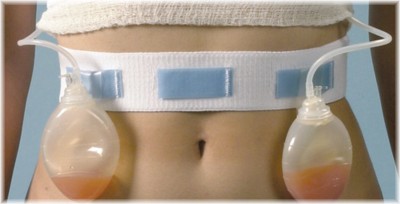 About the holder
The SDBH is a soft, non-latex, adjustable fabric that can secure up to four drainage bulbs without the use of safety pins. Each drain bulb is individually secured with Velcro-type fasteners, so there is virtually no movement of the drainage bulb or tubing. The individual securement decreases patient discomfort and prevents pulling or accidental dislodgement of the drainage tube. When positioned below the surgical site, the holder decreases the potential for leaking. It allows for easy visibility when determining the need to empty the bulbs, and can be worn independent of clothing during the day, in bed at night, or in the shower. It is universal in size and gender.
The SDBH can be put on the patient in the OR, under a hospital gown, worn home from the hospital, and throughout the days or weeks the drains need to remain in place.
An SDBH Kit helps the patient transition from the hospital or surgery center to the home setting. It contains all the needed components for drain care: two measuring cups, a drainage record sheet which includes patient education and step-by step instructions, and two drain belts, one is for showering, if the physician permits.
The abdominal binder, with individual fasteners, also secures up to four drains, eliminating the need for safety pins. Latex free, it has a paneled elastic construction with a plush back and a hook and loop closure. It can conform to body shape, making it comfortable to wear.
Response to the SDBH continues to be positive with patients saying it is comfortable and that they feel it secures the drain well.
Mary Robinson Prody, an experienced home care nurse, lives in Minnesota, where she operates Promedics Products (https://promedicsproducts.com).
Selected reference
Lynn PB. Caring for a Jackson-Pratt drain. In: Lynn PB, Ed. Taylor's Handbook of Clinical Nursing Skills. 2nd ed. Baltimore, MD: Wolters Kluwers; 2014:chap 50.