Prody™ Drainage Bulb Holder II
Made in USA
Click here to Order!
FREE Shipping in the US. Shipping generally takes 2-4 business days in most of the US.
For Medical Facilities, MD Offices and/or for Distributor pricing, call 800-328-1095 or email info@birdcronin.com.  Product # for ordering is #0814-7720.
The Prody™ Drainage Bulb Holder II, with new improved, easy grip fasteners, was developed and designed by a Registered Nurse after working with patients and repeatedly experiencing the frustrations and complications related to securement of the drains. Because the Drainage Bulb Holder II was designed by a nurse, it addresses not only the clinical needs for a securement system that maximizes drain function, but also promotes patient comfort and decreases post-surgical stress. This will improve the quality of life while maximizing drain function and preventing complications.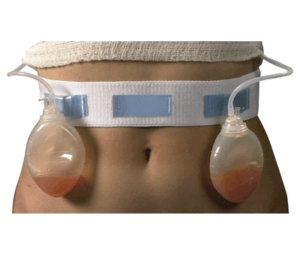 BENEFITS AND CLINICAL ADVANTAGES
Secures up to four drains eliminating the need for safety pins. Prevents pin sticks in staff, patients, or the drains.
Unique, patented, sewn on, easy grip fasteners individually secure each drain decreasing discomfort and allows easy visibility to determine need to empty drains.
Prevents 'pulling' or accidental dislodgement of the drains.
Provides comfort and secures drains during Physical Therapy.
It can be positioned on the chest, abdomen, waist, or thigh; and worn independently of gowns or clothing during the day, in bed at night, or in the shower.  (If your surgeon allows showering, you will need two belts - one for showering - one for dry use.  After showering, the wet belt will air dry and be ready for your next shower.  Consider ordering the kit which includes two belts.)
Soft, non-latex adjustable fabric. Universal size (stretches up to 60 inches).
Additional Helpful Links
Breast Cancer Information
For More Information about managing your surgical drains: