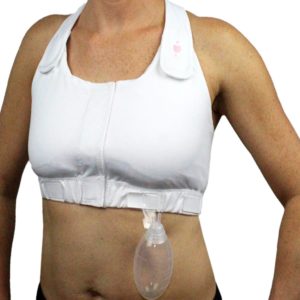 The Larissa Post-Surgical Bra
A post-surgical bra designed for the most comfort during recovery from breast, heart or lung surgery. Front attaching opening, straps and tabs for ease of use and drain management, using the ProdyTM Drainage Bulb Holder in place of pins, with extremely soft, quick-drying fabric. Universal sizing.
Details:
Offers comfort for patients coming out of breast surgery (mastectomy, reconstructive, augmentation, reduction, lumpectomy), and heart and lung surgery
Unique design offers support and compression
Velcro front opening allows for ease in use
Front attaching straps for a secure fit
Velcro tabs in front assist with drain management
Features the ProdyTM Drainage Bulb Holder to eliminate pins. (U.S. Patent #6,610,032)
Pockets for puffs
Made with silky-soft, quick-drying, breathable Core-Wick Fabric (95% nylon/5% spandex)
Available in white/black
Click here to visit the Heart and Core website to order.
Additional Helpful Links
Breast Cancer Information
facebook.com/stupiddumbbreastcancer
For More Information about managing your surgical drains: