Prody™ Abdominal Binder II with Drain Fasteners
Made in USA
Click here to Order!
FREE Shipping in the US. Shipping generally takes 2-4 business days in most of the US.
For Medical Facilities, MD Offices and/or for Distributor pricing, call 800-328-1095 or email info@birdcronin.com.
The abdominal binder, with the addition of the new, improved easy grip fasteners, to secure up to four drains. Eliminates the need for safety pins.
BENEFITS AND CLINICAL ADVANTAGES
Secures up to four drain bulbs eliminating the need for safety pins. Prevents pin sticks to staff, patients, or the drains.
Provides comfort and secures drains during Physical Therapy.
Paneled elastic construction.
Plush back with hook and loop closure.
Stitching between horizontal panels allows binder to conform to body shape.
Available in 6"- 2 panel, 9"- 3 panel, 12"- 4 panel.
Latex Free.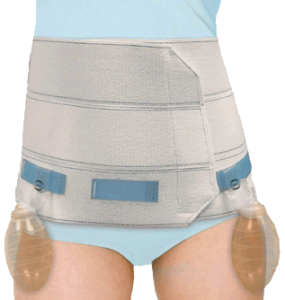 | | | | |
| --- | --- | --- | --- |
| DESCRIPTION | HIP MEASUREMENT | ORDER NUMBER | UNIT |
| 6" 2 PANEL | UP TO 60" | 0814-7730 | EACH |
| 9" 3 PANEL | UP TO 45" | 0814-7726 | EACH |
| 9" 3 PANEL | 46" - 62" | 0814-7727 | EACH |
| 9" 3 PANEL | 55" - 72" | 0814-7728 | EACH |
| 12" 4 PANEL | UP TO 45" | 0814-7736 | EACH |
| 12" 4 PANEL | 46" - 62" | 0814-7737 | EACH |
| 12" 4 PANEL | 55" - 72" | 0814-7738 | EACH |
| 12" 4 PANEL | 72" - 96" | 0814-7739 | EACH |