The Surgical Drainage Bulb Holder: The Better Way to Manage Drains After Breast Surgery

By Mary Robinson Prody R.N.
"Half my tears after my breast surgery were related to my cancer diagnosis, but the other half were related to those darn drains." When I asked my home health care patient what upset her most about the drains, she answered, "While I understood the need for drains to carry fluids away from my surgical areas to help with the healing process, living with them for weeks after surgery was very difficult.
When I woke from surgery and saw those fluid-filled drains secured to my hospital gown with safety pins, all I could think of was how do I keep from accidentally pulling out these drains at home just doing my routine activities? Having to go home with the drains, safety pinned to my shirt only added to the anxiety I already had following breast cancer surgery.
I dreaded having to unpin and pin the drains, which often resulted in painful pin pricks as I tried to secure the drains to clothing with hands weak from surgery. Dangling drains interfered with my daily routines when they caught on objects causing a tugging sensation and unnecessary pain. Finding a way to shower with drains that needed to be pinned to clothing was a major challenge. I couldn't figure out how I could safely sleep in my bed during the 14 days I had drains. I chose to sleep in a recliner chair rather than run the risk of rolling over in bed, on a drain, dislodging it, and causing the contents to empty on the bedding."
As a home health nurse, I heard similar stories from 100's of patients and their families as I taught them drain management of the Jackson-Pratt closed suction drain used in surgeries requiring drainage. One end of its thin rubber tube is inserted into the surgical site, and extends out of the body, secured with one or two sutures, and is connected to a soft round squeeze bulb that collects the fluids from the surgical site. The drainage bulb needs to be emptied a few times daily, the content measured and recorded. After emptying the bulb, it is then squeezed before re-capping, creating the suction function of the drain.
After years of working with patients, witnessing their frustration, discomfort, fears and anxieties with post-surgical drains, as well as the clinical complications that occurred related to not having a universal way to secure drainage bulbs, I developed the Surgical Drainage Bulb Holder.
The Surgical Drainage Bulb Holder is a safe, inexpensive, practical alternative to safety pins, and other ineffective or makeshift methods, to secure a patient's surgical drain(s) placed in the wound bed during surgery to carry fluids away from the breast cancer surgical site.
Traditionally, Jackson Pratt (JP) drainage bulbs have been secured with safety pins, initially, to a patient's hospital gown and then clothing when home. There are a few other methods used. Some drains have a plastic clip, which is an ineffective method of securing a drain because it easily slips off of clothing as the bulb becomes weighted with drainage.
Using safety pins to secure drains can result in serious problems. Pin sticks are a concern for hospital staff, as well as patients. Any skin puncture is a potential site of infection. A pin stick in the drain tube or bulb causes loss of suction, rendering the drain ineffective.
There are camisoles for mastectomy patients that support prostheses, and have pockets for drainage bulbs. Camisoles are effective as a prosthetic garment after the incisions are healed, but not effective for securing drain bulbs immediately post-op due to incisional discomfort. Camisole drain pockets have a lot of movement, and when the bulbs are weighted with drainage, can cause discomfort at the insertion site, especially in bed at night. Also, securing drainage bulbs in a pocketed camisole does not necessarily prevent leaks when patients wear them while sleeping. A camisole with pocketed drains is not suitable to wear when showering.
A camisole is significantly more expensive than the Surgical Drainage Bulb Holder. Patients usually feel the need to buy more than one camisole to allow for a change.
The Surgical Drainage Bulb Holder meets patient needs for an easy to put on and take off, comfortable to wear, belt-like surgical drainage bulb holder; one they can camouflage under clothing, wear to bed, and in the shower.
The Surgical Drainage Bulb Holder, patented in 2003, meets the clinical criteria for maximizing drain function and preventing complications. It is used in 155 nationally recognized hospitals. For a list of hospitals/facilities see www.promedicsproducts.com
The Surgical Drainage Bulb Holder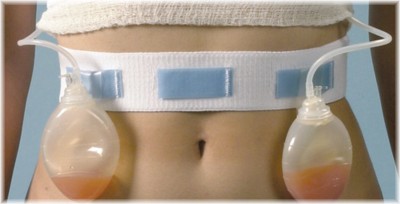 The Surgical Drainage Bulb Holder is a soft, non-latex, adjustable fabric that can secure up to 4 drainage bulbs without the use of safety pins. Each drainage bulb is individually secured with Velcro type fasteners; so there is virtually no movement of the drainage bulb or tubing. This decreases patient discomfort, prevents pulling, or accidentally dislodging the drainage tube.
When positioned below the surgical site, the drainage bulb holder decreases the potential for leaking. It allows for easy visibility when determining the need to empty the bulbs, and can be worn under clothing during the day, in bed at night, or in the shower. It is universal in size and gender. It can be put on in the operating room, under a gown, worn home from the hospital, and throughout the days or weeks the drains need to remain in place.
A Drainage Bulb Holder Kit helps the patient transition from the hospital or surgery center to the home setting. It contains all the needed components for drain care: two measuring cups, and a drainage record sheet, which includes patient education and step-by step instructions, and two drain belts, one for showering, if the physician permits.
The Surgical Drainage Bulb Holder is popular with patients who appreciate its secure, comfortable fit that allows them to go about daily routines while having drains.
Source:
Lynn PB. Caring for a Jackson-Pratt drain. In: Lynn PB, Ed. Taylor's Handbook of Clinical Nursing Skills. 2nd Ed. Baltimore, MD: Wolters Kluwers; 2014: chap 50.
Mary Robinson Prody is a Registered Nurse trained in Minneapolis MN. She worked as a Home Care Nurse in Minnesota, and for many years in Florida. She currently resides in Minnesota, where she operates Promedics Products, a company founded to promote a line of patented Post-Surgical Drain Care products developed to fulfill a market need for a universal system to secure post-surgical drains that improve the quality of life for patients, while decreasing complications and improving outcomes, in surgeries requiring the use of JP drains.
Copyright © 2017 CancerConnect. All Rights Reserved.